Announcing NEW airless pump for Mil-Spec Cream in 10, 15 and 30 ml Sizes!
Increase cream shelf life with NEW non-messy, easy to dispense pumps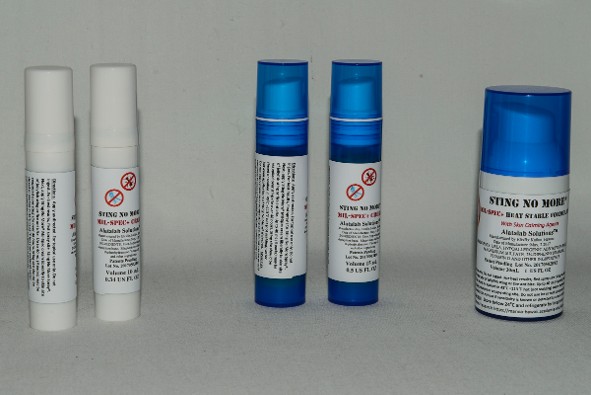 Pro Kit with reusable 45oC HotPack
Mil-Spec Cream Now in Double Sized Resealable Foil Packet
New Improved Heat Stable Formula!
Oahu customers can also purchase StingNoMore® products at Breeze's Dive Shop,
Hanauma Bay Gift Shop, ElixRx Pharmacy and Aarons' Dive Shop in Kailua.
Also Select ABC Stores in Waikiki
ABC Store #12, 2522 Kalakaua Ave
ABC Store #14, 2456 Kalakaua Ave.
ABC Store #25 Pacific Beach Hotel, 2490 Kalakaua Ave #103
ABC Store #66 Park Shore Hotel, 2586 Kalakaua Ave
StingNoMore® Spray
StingNoMore® Cream
Directions:
1. Use StingNoMore® Spray to clean sting site and inactivate stinging cells then
2. Use Rapidly Absorbed StingNoMore® Cream for Sting Relief
Place Your Online Order on Product Page
Please note that Sting No More® Cream should be stored at room temperature or refrigerated until use. Unopened products in original condition may be returned within 2 months before or after the expiration date for new product replacement or full refund.
Sting No More® Spray is heat stable.